Howdy, my name's Art (Artie to friends, even if it makes me sound like I'm 74 years old) Anthony.
I'm a freelance UK copywriter based near Manchester. I started Copywriting Is Art because I believed, and still do, that I could bring something different to the table. Namely, use words to help businesses make themselves impossible to ignore.
Creating content that's readable isn't enough for me. I'm of the mindset that good web copywriting needs to be inherently shareable as well as driving sales.
And, because I've got a startup mentality, it needs to be turned around quickly too. No red tape, no unnecessary rain delays.
My freelance copywriting career has included things like:
– Rewriting entire business websites
– Ghostwriting on behalf of CEOs
– Managing social media accounts
– Editing content written by other bloggers
– Cleaning up work written by other freelance web copywriters
I often get asked 'what does a copywriter do?' and, while it's not a bad question, I'm more inclined to tell you what I do personally and why it matters to you.
What I do as a freelance copywriter
What's cool today is yesterday's news tomorrow. Or, in the case of web copywriting, about 45 minutes after it happens. That's why it's so important to create content that walks the line between feeling fresh and being timeless. As a freelance copywriter that's the hardest, but most rewarding, thing I do.
Any web copywriter worth their salt infuses their work with the science of sales and uses psychology to influence human behaviour. But truly great copywriting also has the same capacity to delight, sadden or shock that great artwork has.
If you have any experience with content farms, you'll already know that doesn't come easy. I'm sorry to be the bearer of bad news, but it doesn't come cheap either. It does, however, often result in your sales going through the roof.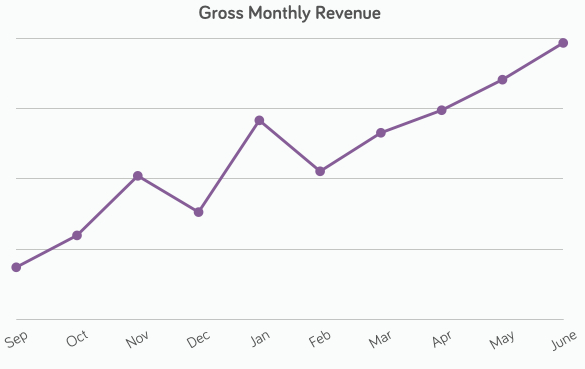 Take the above graph of sales data (sensitive info redacted) I received from a client that I started working with one September, for example. With my help as a freelance copywriter, they were able to quadruple their monthly revenue in 9 months.
Hiring/workflow details
Three common questions that are usually on the mind of anyone looking to hire a freelance copywriter:
What are your rates?
Freelance copywriting rates are tricky beasts, because a tightly crafted 600 word sales letter requires a lot more tweaking and research than, say, a blog post of the same length.
I quote on a project by project basis, but £300 ($375) per day/£40 ($50) per hour is a decent ballpark figure if you want to get a rough idea of costs.
Will you work on-site?
I usually work remotely – using apps like Basecamp, Slack and Trello to manage projects – but I'm willing to travel for meetings and a bit of hot desking where necessary.
How's your availability?
Immediate. And by that I mean that if you have an urgent job I can make time for it.